Domain DNS Manager - Full Control for FREE
When you register domain names with UK-Cheapest.co.uk, we give you full control over the management of your domain DNS records. We know this can be a complicated subject. So we make it as easy as possible for you.
We allow full control over all DNS record types such as A, CNAME, MX and TXT. We also have custom DNS templates that make it easy to connect to services such as Moonfruit or Google Apps Gmail. If you've ever tried entering the Google MX Records by hand then will will love how easy we have made it for you.
Our DNS Manager is So EASY to Use
You can freely add or delete all A, MX, TXT (SPF) and CNAME records for your domain. The records are added in realtime, there is no delay to your record changes being submitted to the server. However, let us show you how easy it is to use our DNS templates. 3 clicks configures your domain for Google Apps Gmail. All MX records added, non require records removed, DNS zone file reloaded. Job done!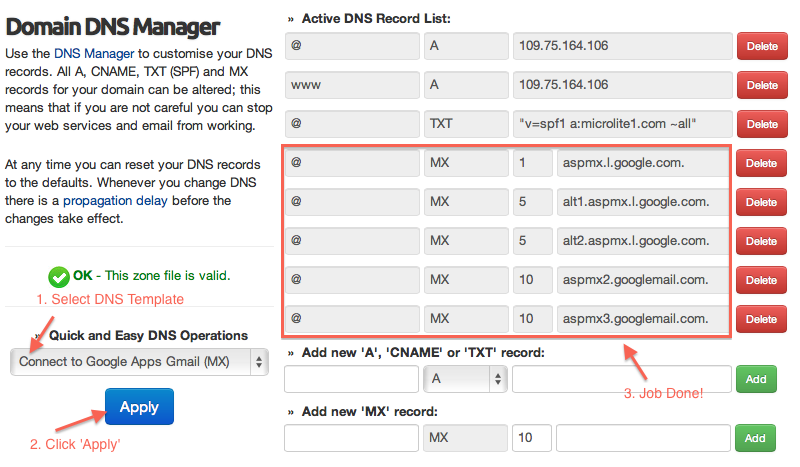 Advanced DNS Management - For FREE?
Our Advanced DNS Manager is provided FREE with all domain names registered or transferred to us. Full control, at no extra cost, where you need it most.
---
Related pages and information