Changing your Domain Name Servers
When you register a new domain name, often one of the first things you want to do is to connect it to your web hosting service. Usually your web host will provide name servers.
Until you change the name servers on your domain name, your domain will be parked and you will be able to use any of the parking features which come with every domain name.
Locating the Nameserver tab for your domain
Changing your domain nameservers is easy. You can change them as often as you need.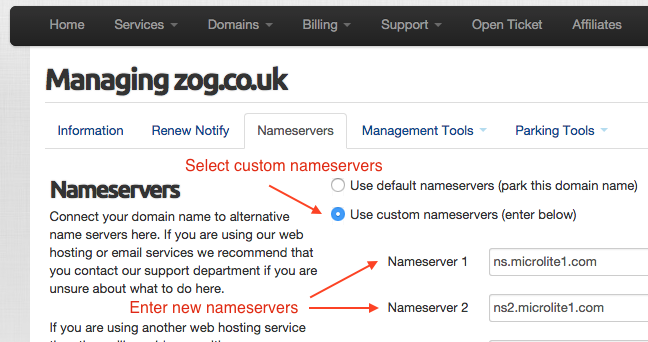 To change your domain nameservers, simply follow these steps:
Login to your Client Area and go to Domains > My Domains
Click Manage on the desired domain name
Click Nameservers tab
Select Use Custom Nameservers
Enter at least two different name servers
Press Change Nameservers button
Any nameserver changes can take up to 24 hours to fully propagate across the global internet so do not expect instant results in your web browser.
Video Demostration
How to Change your Domain Name Servers
written by UKC
average rating

3.7

/

5

-

7

user ratings