On Demand IT Infrastructure
Our servers are housed in six state-of-the art datacentres, with On Demand IT Infrastructure backed by complete redundancy in power, HVAC, fire suppression, network connectivity and security.

Our datacentre partners own and manage 155,000 square feet of datacentre space, with an additional 12,000 square feet of expansion capability. Each facility — wholly owned, managed and operated by our datacentre partner — is equipped to handle any challenge based on these unique advantages:
Our secure datacentres are monitored 24×7 to ensure your servers are always safe
N+1 power generator architecture
N+2 redundant datacentre HVAC (heating, ventilation, air conditioning) systems
Advanced fire suppression systems to keep any fires localised
Preventive maintenance meets or exceeds manufacturers recommended practices
Maintenance performed regularly by our own highly trained personnel
Physical Datacentre Security
SecurityAccess to the datacentres is protected 24 hours a day. In order to gain entry into the data centre all guests must pass through two-factor authentication barriers. A Northern Proximity security badge is required for entry/exit on all data centre doors in the facility. Shifts patrol the data centre and facility area regularly, and motion-sensitive cameras throughout the facilities track all data centre activity.
Multiple-Layer Network Security
Our data centres take network reliability and performance to the next level. We maximise our network security protection by adding Cisco Guard XT appliances and Arbor Peakflow protection against DDoS attacks that could harm your business.

Our data centres combine cutting-edge security technology, best practices and a team of certified senior-level professionals to help ensure that you can safely manage and grow your business. Using state-of-the-art traffic profiling and anomaly detection capabilities, we manage and secure our networks, pinpoint and troubleshoot network attacks, monitor your servers and applications, and analyse network security performance issues.
DDoS Attack Response
Once a DDos attack is detected and confirmed by the Network Operations, the affected traffic is routed through a DDoS Mitigation Service. This filters out the attack traffic and allows the legitimate traffic to continue to its original destination. When the attack has subsided, the original direct path between the destination and the rest of the Internet is restored.
Fully Redundant Datacentre Power
If any of our datacentres were to experience a power disruption for any reason, you're covered. That's because we have a complete power management system, including backup generators in the unlikely event that normal power supplies fail.
Uninterrupted Power Supply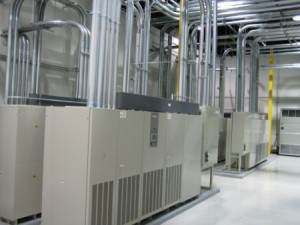 Servers within our data centres are fed power through an Uninterrupted Power Supply (UPS) that takes raw power from a utility to control, modulate, and supply it to thousands of individual servers.
The UPS prevents power surges or local brown outs from affecting server performance.
Power typically flows from the local utility to our UPS system to power our servers and the building's lighting, heating, ventilation and air conditioning systems. In the unlikely event that the local utility power supply is disrupted, our N+1 generator architecture assures that backup generators kick in automatically.
N+1 Backup Generators
Once the power transfer switches sense a decline in power from the local utility, they automatically signal diesel-powered generators to start up and switch power flow to the generators. In the few seconds between the decline in power from the utility and switch over to our backup generators, our UPS units are supplied with power through a battery system that ensures the power supply to servers is uninterrupted.
Should any generator fail, we have additional backup generators that kick in automatically to keep power supplies flowing. And if by any chance there is an extended power outage, on-site diesel generators can run indefinitely. Servers are fed by multiple uninterruptible power supply (UPS) units with redundant instant failover coverage should any single UPS unit fail.
From February 2010 we now automatically host all "Personal", "Business" and "ProSSL" accounts in our UK datacentre. The "Budget" and "Starter" level accounts will continue to alternate between UK and US datacentres.
Datacentres and Servers
written by UKC
average rating

5

/

5

-

3

user ratings