What's in a name?
Well, to be honest, pretty much of everything.
Your site domain name is most likely the first thing any potential new client will encounter and we all know how important those first impressions are.
What happens when your domain name becomes unfashionable?
When you have run a successful business for 13 years it's a nerve racking experience to consider changing the domain name of an established site. This is exactly the problem we have been facing.
This length of time (especially in the internet sector) is like, forever. Consider all those juicy backlinks, visitor bookmarks and all that brand recognition. Is it even sensible to change at this stage? We have attentively listened to our clients, and we have heard that change is absolutely required.
What's wrong with the old domain name?
Does your domain name give the right impression for your business? Or even more significantly, does your domain name give the wrong impression for your business?
Our (soon to be) old domain name is "uk-cheapest.co.uk".
Back in 2002 it seemed cool to be "the cheapest" or known as "cheap" but as the years have rolled by, "cheap" has become synonymous with "poor", "incomplete" or "low quality". It's just not cool anymore.
The web hosting sector has become much more complex and now when you read "cheap" you have to work out what's missing and this is simply the wrong message. A domain rebrand for us has become a necessity.
Besides, none of us liked the hyphen in the domain name anyway, not since the very start!
Ok, let's change. But not too much.
How can you make a significant change, but, also not too much change? Can you change and still be the same? We searched for common ground, somewhere between where we were and where we wanted to be.
In our case, for many years we have been referred to as "UKC", we even refer to ourselves in this way. It makes sense to rebrand in a way that is already accepted and familiar. It means existing clients can feel familiar with the "new" brand straight off the bat.
We searched for our perfect domain and were fortunate to acquire the UKC.co.uk / UKC.uk domain name pair.
For us, this ticks all the boxes
Short and memorable
Geographically relevant
Instantly recognisable
When searching for your perfect domain, you may find it's already registered. If it's not being used, check the public WHOIS record and contact the owner and ask if they will consider selling the domain. This is what we did, it worked first time.
As a UK business, should we .CO.UK or .UK?
Nominet launched the .UK domain extension in June 2014. This is in addition to the usual and familiar .CO.UK extension which has over 20 years of history and trust in the industry. So another decision was required.
Some of us preferred .UK and others preferred .CO.UK. It was impossible for us all to agree so we spent some time conversing with domain experts and industry leaders. It didn't help, they were generally as undecided as we were.
With time ticking and 2015 drawing to a close, we had to come to a decision.
Undecided? Time to Ask The Audience!
There's nothing better than consulting your own customers, clients and followers. We decided to put the decision to our clients and followers. The twitter poll was launched! At last, we'd have an answer from those that matter most within 24 hours.
Personally, I was pretty sure that the .UK would win. How wrong I was?!
We received votes from Nominet, Bluehost, GoDaddy, NamePros, Acorndomain members and even Google's Matt Cutts!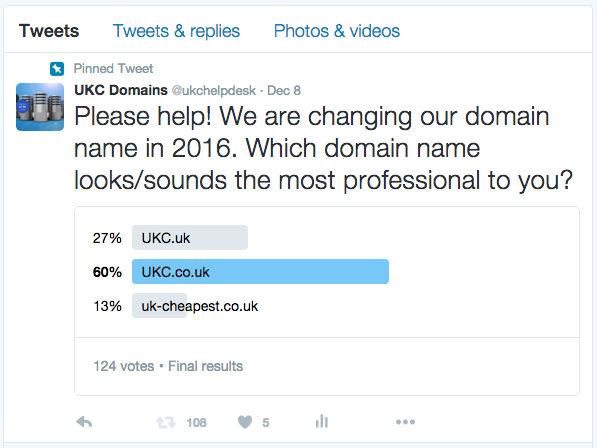 Finally we have a clear choice. Our new domain will be: UKC.co.uk
Making it all happen
When changing your domain name, there are quite a few issues to consider.
License specific software that is tied to your domain
Google Search Console (Google Webmasters for the rest of us)
Link Juice, Backlink retention and search ranking
Site URL dependencies in web applications
Up to the end of the year we will be working on these issues and without needing too much luck, everything will work.
It's impossible to predict the impact on organic SEO. We are losing the keyword "cheapest" from our domain. What effect this will have on site links we cannot be sure. It might take Google some weeks (or months) to fully adjust to our new domain.
It would of course be easier to keep the old name.
Remember: progress is made by doing what is right, not what is easy.
How to Rebrand Your Business – and Survive
written by UKC
average rating

4

/

5

-

4

user ratings