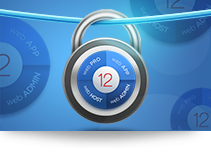 Enhanced Security on All Levels.
The new Security Core in Plesk 12 combines ModSecurity and Fail2Ban with Outbound Antispam and ServerShield™ tools allowing you to deliver server-to-site security out of the box.

With the Plesk 12 Security Core on your servers you get:
Secure servers that protect against persistent attacks targeting known or newly discovered vulnerabilities
Increased uptime as malicious attacks against your servers are automatically blocked in real time
Cleaner IP addresses with outgoing spam protection preventing your servers from being blacklisted
Faster site performance and bandwidth savings with next generation CDN

All security components work together leading to a more reliable infrastructure.
About ServerShield™
Odin partnered with CloudFlare to build ServerShield™, a complete security solution that enables server administrators and websites owners to protect and speed up any website with just a few clicks.
ServerShield helps to block hackers, spammers, botnets, and DDoS attacks. In addition, it offers free and unlimited reputation monitoring by StopTheHacker.
End-customers also get CloudFlare's next generation CDN, which brings content closer and faster to visitors where on average, a website on CloudFlare loads twice as fast and saves 60% of bandwidth. No configuration or setup is needed.
Infrastructure Secured with the Plesk 12 Security Core
written by UKC
average rating

5

/

5

-

1

user ratings